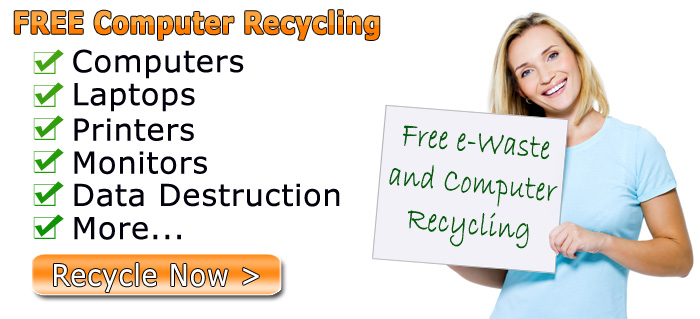 ---
Free Computer Recycling
Not sure what to do with your old computers? We have the solution by offering free computer recycling. Simply drop it off at our drop of location in Beaverton or schedule an e-waste recycling pickup.
Junk Computer offers professional disposal of all electronic and computer related equipment e-waste in the Portland Vancouver Metropolitan area. That includes the cities of Aloha, Beaverton, Beavercreek, Battle Ground, Camas, Clackamas, Columbia , Damascus, Gresham, Gladstone, Hillsboro, King City, Lake Oswego, Milwaukie, Oregon City, Portland, Raleigh hills, Troutdale, Tigard, Tualatin, Fairview, Vancouver, Wood Village, West Linn, Wilsonville, Washougal and Washington, West Slope just to name a few. We ensure that obsolete computers are disposed of in an environmentally friendly manner. We have been an EPA & DEQ compliant electronic recycling company for over 10 years. We have offered FREE Computer Recycling before any other company.
E-Waste Recycling Solution
We will recycle all of your electronic and computer related e-waste for free (no charge). You may drop-off your items, that you want to recycle at our drop off location in Beaverton or we can pickup your items for a small fee in the Portland Washington metropolitan area. We will dispatch a truck to your location (business or residential) to pick up your items for recycling. We are proud to offer same day recycling pickup service for as low as $15 The recycling pickup fee will be waived if you have large volume of items to reycle. The pickup fee will vary according to the distance that our truck has to travel to pick up your items (These calculations are based upon Zip Codes) Here is a list of some of the computer related items that we recycle.
Free Computer Recycling, Free monitor Recycling
Laptops, PDA's and Palm Pilots
Hard disk drives, Floppy disk drives
Printers, Fax machines, Copiers
CD ROMs, Modems, Networking Devices
Circuit boards, Circuit board components
Cables, Wire's and connectors
Mainframes
Keyboards/Mice/Power Supplies
Test Equipment/Point of Sale Equipment
Telephone Equipment/ Cell Phones
Radios/VCRs/Projectors
Game controllers and consoles
Medical electronic equipment
Inkjet/Toner Cartridges
Electronic equipment: Oscilloscopes/Tubes/CB radios, etc.
Security equipment/Security cameras etc.
Office furniture, appliances, refrigerated items and much more…
Some of the components in the systems are removed and reused to repair/upgrade other computers, which are then re-sold or donated to schools, churches and other non profit agencies that don't require "state of the art" systems. The metals – copper, aluminum, steel, and plastic are recycled appropriately.
Did you know that 95% of old computers land up in our precious landfills? Junk Computer reprocesses and re-uses nearly 80% of all the components in the systems that most people are ready to throw away. Not only is it hazardous to put computers in landfills, in terms of water contamination and a variety of other looming problems, it is irresponsible not to recycle your old unwanted computers.
---
Schedule Recycling Pickup Service
---
Now that you have the facts it is up to you to decide what you want to do with that old computer. Let me urge you one more time to not just throw your old computer equipment in the dumpster. We need your help to keep our landfills clean and free of electronic waste. Whether your organization is a church, school, or commercial business; whether you have only one computer or five hundred computers to recycle; we will pick it up and haul it away. No job is too big or too small for us. The bottom line: We want to make the process as easy as possible for you, so that you too can join in the effort of keeping our landfills free from hazardous electronic equipment. There are no hidden fees and if you compare our prices you'll see that we are the cheapest in the nation because we offer Free Computer Recycling