We are experts when it comes to recycling.
The Best Free Electronics Collection and Electronics Recycling in Portland Oregon.
Dispose of Your E-Waste in the Most Responsible Way
Take a look around your office or home. How much space is being wasted with old, outdated electronics that you no longer use? Not only do those old computers, printers, monitors, phone systems, TVs, and other appliances take up a lot of space, but they're just sitting there gathering dust and wasting away. They could be safely and ethically recycled or reused.
JunkComputer is the only electronic waste collection company who offers convenient electronic recycling. Portland businesses and residents have come to expect the higher standard of electronic recycling that JunkCompter offers. We provide convenient door-to-door pickup services.
That's right, we'll come to you to pick up any electronics and help with computer recycling. Portland – you no longer have an excuse!
We collect all types of electronics, including:
Commercial Electronics – i.e. computers, monitors, phone systems, etc.
Restidential Electronics – i.e. TVs, VCRs, DVD players, etc.
And much more…
Simply put, if it is powered by batteries or plugged into a wall, and you no longer need it – do the responsible thing and contact the most ethical electronics recycling Portland has to offer — JunkComputer.
Click here to get a FREE schedule a recycling pickup today or call us at 503 853 8691.
Ethical E-Waste Collection and Electronic Recycling in Portland Oregon and Surrounding Cities
Did you know that electronics contain large amounts of hazardous materials? If these are not recycled in a responsible, ethical way, they can pose a great risk to us as well as our environment.
We do more than say we're green and talk about safe recycling.
We are committed to adhering to the standards set by the Basel Action Network (BAN) and e-Stewards Recycling Certification regarding "E-waste" export for reuse, repair and refurbishment.
We're the first companies, to offer e-waste collector at the office. We support the Responsible Electronics Recycling Act (H.R. 2284). The Responsible Electronics Recycling Act is a proposed legislation which would restrict toxic e-waste exports to developing countries who lack adequate safeguards for the environment and workers.
Responsibly recycle electronics. Portland has come to trust the JunkComputer because they know e-waste is being reused or recycled without damaging our planet.
JuckComputer is more Than Just Electronics Recycling: We are a Complete Secure E-waste Solution
At JunkComputer (owned and operated by SBC Recycle), we offer more than simple electronic and computer recycling. Local businesses and individual clients can take advantage of:
Data destruction—Your old computers and electronics may still contain sensitive data that you don't want anyone else to have access to. That's why JunkComputer also offers data destruction services. We guarantee that all data destruction services are performed to NIST 800-88 standards. We offer on-site or off-site data destruction services.
Electronics Recycling:  Think of JunkComputer as your complete e-waste partner. In addition to picking up and recycling your electronics, we also provide education about the e-waste industry, local and federal legislation and the general issues of e-waste. We can assist with the budgeting process so that your business can include e-waste recycling as a line item. This will eliminate any surprise costs when it comes time to recycle your e-waste as we are providing the quote and working with you during the budgeting process, so there are no surprises.
Make the Responsible Choice: The Best Electronics and Computer Recycling Portland Offers
When it comes to electronics recycling, JunkComputer offers a level of service and ethics that cannot be matched by any other company. We promise to always provide:
The highest ethical standards in e-waste recycling
24 hour response time to all inquiries
Door-to-door pickup of all electronics
Friendly, knowledgeable, and professional staff
The best customer service in the industry
Sensitivity to your data security needs
Free Recycling bins
Electronc E-Waste Recycling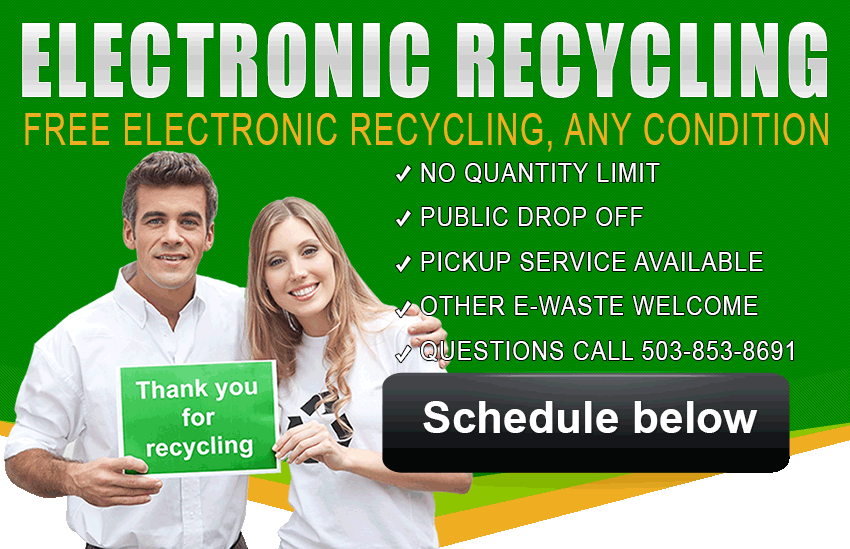 Use the form below to request Electronic recycling services.
Business Recycling Pickup
Residential Recycling Pickup
Recycling FAQ
Business Recycling Pickup
Residential Recycling Pickup
Recycling FAQ
Always free to drop off.
To Qualify for FREE ONSITE Data Destruction your e-Waste needs to have enough value to defer the Data Destruction Cost. 
Specific 2 hour window is not always guaranteed due to workload, traffic and weather conditions.
If you e-Waste don't have enough value the data destruction would be done offsite at our location, you are welcome to witness the data destruction process.
We are a full-service electronics recycler and collector specializing in all types of electronics waste (e-waste). We offer same day pickup service in the Portland-Vancouver Metropolitan area. Pickups are often free of charge and can be done at your convenience. We currently collect a few thousands of pounds of electronics per month, and we have the capacity to process large corporate e-waste pickups with a very short notice, in most cases we can offer same day recycling pickup service if you schedule early in the day. If you need a quick response, please use the form above or call us directly at 503 853 8691 to discuss your recycling needs.
Please scroll down to see all FAQ's
Do you charge for electronic recycling?
No, we don't charge for electronic recycling. All e-waste are recycled at no cost to you. 
Does the items have to be in a working condition?
Unlike other companies, we accept all electronics and electronic parts in any condition or age. We are not picky because we have the means to recycle all of the individual components. We take on the bigger task of taking sorting and recycling all of the material appropriately.
Can I drop off my items?
Yes you can drop off your items at our drop-off location in Beaverton during regular business address below:
SBC Recycle (Next to Les Schwab Tires on TV Highway)
19040 SW Shaw St
Aloha OR, 97007
What is your drop-off address?
You can drop off your items at our location in Beaverton or you can schedule online and we will pickup at your location. Here is the address where you can drop off your items for recycling during regular business hours
SBC Recycle (Next to Les Schwab Tires on TV Highway)
9040 SW Shaw St
Aloha OR, 97007
What is your drop-off hours?
We are open for drop offs 6 days a week, no need to schedule online or make an appointment, just bring your items during regular business hours. 
8:00 am – 6:00 pm – Monday 
8:00 am – 6:00 pm – Tuesday
8:00 am – 6:00 pm – Wednesday
8:00 am – 6:00 pm – Thursday 
8:00 am – 6:00 pm – Friday
9:00 am – 6:00 pm – Saturday 
Sunday CLOSED
Will there be someone to help offload the items?
Yes, there will be somebody to help unload your e-waste and electronics. We have a forklift on site and loading docs for comercial trucks and trialers.
How can I get started?
Simply schedule your recycling pickup online and we will dispatch a truck to pickup your electronics.
What other items do you accept for recycling?
We accept all types of appliances including commercial machinery. Take a look at the list below. Don't hesitate to contact us if you are unsure.
Chest Freezer
Stove,
Gas or Electric Dishwasher
Tumble Dryer
Washing Machine
BBQ
Furnace
Air Conditioner
Heat Pump
Refrigerator
Water Heater
Washer Dryer Combo
Microwave
Exercise equipment
Old car parts
Metal fences
Commercial machinery
Many more as long as it works with a battery or electrical cord.