Printer Recycling (any size), Printer Disposal, and ink recycling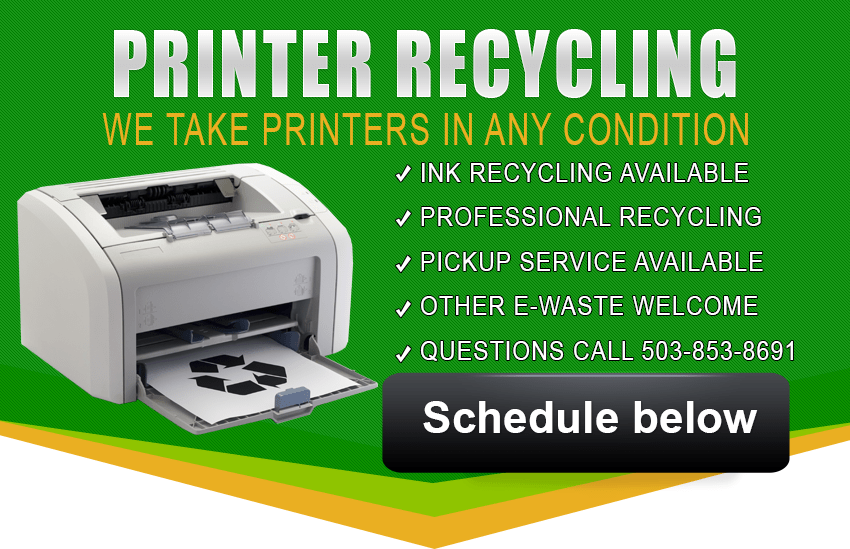 Printer recycling is a great way to help out the planet, and others.  Rather than tossing it in the trash to rot away in a landfill, leeching nasty chemicals into the ground, you can do something positive with it.  When a printer is recycled it is broken down into individual pieces and re-purposed as something else,
Use the form below to request Printer recycling services.
Business Printer Recycling Pickup
Residential Printer Recycling Pickup
Business Printer Recycling Pickup
Residential Printer Recycling Pickup
* Always free to drop off.
** For less than 20 hard drives the data destruction would be done offsite at our location, you are welcome to witness the data destruction process. Upon completion we provide a certificate to authenticate the process.

*** Specific 2 hour window is not always guaranteed due to workload, traffic and weather conditions.
---
We are a 
full service electronics recycler
 and collector specializing in all types of  electronics waste (e-waste). We offer same day pickup service in the Portland-Vancouver Metropolitan area. Pickups are often free of charge and can be done at your convenience. We currently collect a few thousands pounds of electronics per month and we have the capacity to process large corporate e-waste pickups with a very short notice, in most cases we can offer same day recycling pickup service if you schedule early in the day. If you need quick response please use the form above or call us directly at 503 853 8691 to discuss your recycling needs.